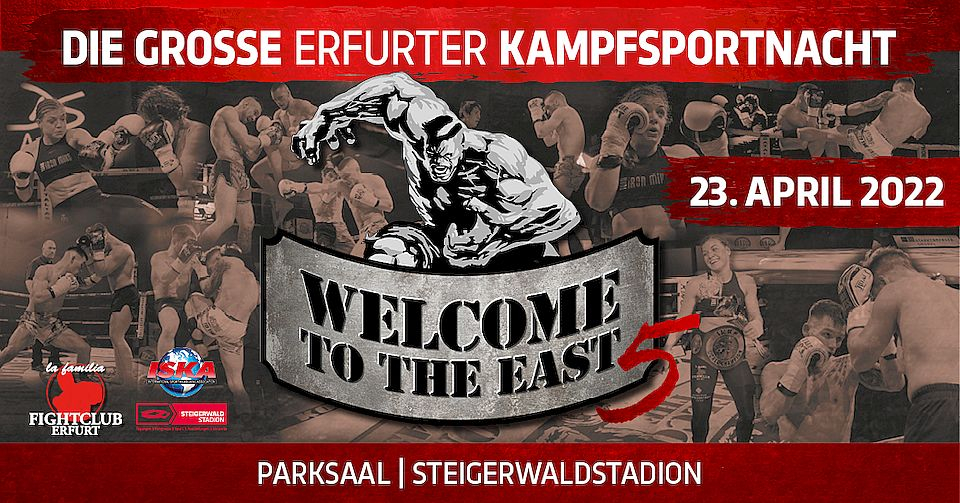 19.04.2022 // Tobias Gerold
// WTTE V: HELSHANI VS. KACAR UM EM TITEL
// Alle Infos zum Event am kommenden Samstag
Am kommenden Samstag hat das Warten ein Ende. Nach drei Jahren Pause steht Welcome to the East V in der Arena von Erfurt auf dem Programm.

EM-Titel: Helshani trifft auf Kacar
Es soll der große Abend von Lokalmatador Besmir Helshani (in seinem Kampf bei Fight Vision Europe) werden. Nichts weniger als der Gewinn der Europameisterschaft ist das erklärte Ziel des Erfurters. Ihm im Weg steht hier Nuri Kacar (in seinem Kampf bei Prestige Championship) aus der Türkei, welcher für die Tempel Fightschool in den Ring steigen wird. Gemessen an der Kampfstatistik gilt Helshani als leichter Favorit. Doch aufgepasst, Kacar darf man nicht unterschätzen. Der Darmstädter hat durchaus was auf dem Kasten, konnte aber in der Vergangenheit seine exzellenten Trainingsleistungen nicht immer in den Ring übertragen. Jedoch hat er auch in Duellen wie mit Artur Scherer gezeigt, dass ihn abzuschreiben ein großer Fehler ist und der in der Regel bestraft wird. Allerdings betritt er in Erfurt die Höhle des Löwen und der Druck durch die einheimischen Fans wird gewaltig sein. Die Frage wird also sein: kann Helshani mit dem Heimvorteil und der Unterstützung der Fans sich seinen ersten, wichtigen internationalen Titel sichern oder überrascht Kacar alle und wird zum Stolperstein? Die Antwort darauf gibt es am 23. April in der Arena von Erfurt.

DM-Titel: Marhula vs. Baas
Auch für Erik Marhula (in seinem Kampf bei Get in the Ring), dem Team-Kollegen von Helshani, wird es ernst. Erneut lautet hier die Paarung Erfurt vs. Darmstadt, wenn Marhula auf Johannes Baas (im Kampf auf der Fight Arena 4) treffen wird. Eine regelrechte Schlacht steht den Zuschauern hier bevor, denn beide Kämpfer sind dafür bekannt, keiner Konfrontation aus dem Weg zu gehen. Ein offener Schlagabtausch ist hier schon fast garantiert. Beide Akteure werden sich mit Sicherheit nichts schenken, denn jeder wird heiß auf den Titel sein. Kann man sich mit dem Gewinn doch für weitere, auch internationale Aufgaben empfehlen.

WTTE-Tournament: Nachfolger von Wunn gesucht
Chris Wunn war der letzte WTTE-Tournament-Gewinner. Nun stehen 8 neue Kämpfer bereit, um das Erbe von Wunn anzutreten. Diese werden ihre Viertelfinal-Paarungen zunächst am Freitag bei der offiziellen Waage selbst auslosen, denn jeder Kämpfer wird einen Umschlag ziehen - weiß aber nicht, welcher Name sich darin befindet. Dies bedeutet, dass es bereits im Viertelfinale zu einem potenziellen Final-Kampf kommen könnte. Spannung pur ist hier also garantiert. Aus lokaler Sicht sind natürlich die Augen auf Tim Hoffmann (in seinem Kampf bei Get in the Ring) gerichtet. Dieser möchte den Erfolg seines Trainingskollegen Besmir Helshani von 2018 wiederholen und sich als zweiter Kämpfer des La Familia Fight Clubs in die Siegerliste eintragen. Die Konkurrenz ist stark, sehr stark. Geplant war dabei eigentlich auch die Teilnahme von Fukan Gencer, welcher aber aufgrund von einer Corona-Erkrankung nicht in Erfurt dabei sein kann. Dieser wird ersetzt durch Shazad Hamad aus dem Irak. Er wird der große Unbekannte sein und vielleicht ist er ja für eine Überraschung gut? Ebenfalls dabei: Artur Derksen aus Iserlohn, welcher unlängst bei Big Game 4 (das Duell in voller Länge) seine starke Form unter Beweis stellen konnte. Sergej Gavrusenko muss man unbedingt auf der Rechnung haben, wenn man über einen potenziellen Sieger spricht. Das gGeiche gilt auch für Filip Szostak (Polen), David Kalashyan (Armenien), Renato Goman (Ungarn) und Anastasios Chatzigeorgiadia (Griechenland). Bedingt durch den Modus der Auslosung, der Wertungskriterien in den ersten drei Runden und der Tatsache, dass man mit Köpfchen kämpfen muss, um mit so wenig Blessuren wie möglich in das Finale zu gelangen, haben die vergangenen Jahre gezeigt, dass Überraschungen hier sehr wahrscheinlich sind.

Bereits ab 16.30 Uhr wird man mit einem kleinen, aber feinen Vorprogramm starten, bevor dann ab 18.00 Uhr das Hauptprogramm beginnen wird. Für alle Kurzentschlossenen sei gesagt, Karten gibt es im Vorverkauf leider KEINE mehr. Wer sich dennoch die Veranstaltung zu Gemüte führen möchte, der kann HIER den Fight Pass erwerben.

Welcome to the East V
23. April 2022
Arena, Erfurt

Einlass: 16.00 Uhr
Beginn : 16.45 Uhr (Vorprogramm) / 18.15 Uhr (Hauptprogramm)

ISKA-Europameisterschaft / K-1
Besmir Helshani vs. Nuri Kacar

ISKA-Deutsche Meisterschaft / K-1
Erik Marhula vs. Johannes Baas

"All or Nothing" Tournament / K-1
- Tim Hoffmann (Deutschland)
- Shazad Hamad (Irak)
- Artur Derksen (Deutschland)
- Sergey Gavruschenko (Russland)
- Filip Szostak (Polen)
- David Kalashyan (Armenien)
- Renato Goman (Ungarn)
- Anastasios Chtzigeorgiadia (Griechenland)

Tournament-Reserve Kampf / K-1
Liang Lo vs. Dawood Pietronella

K-1
Chris Wunn vs. Jan Kaffa
Marian Lewin vs. Ingiohairo Kani
Majid Ahmadi vs. Sebastian Rasters
Sirko Grosser vs. Okan Celikdal
Hamid Rezaiee vs. Mukremin Guler
Christoph Ostrowski vs. Anton Schulten
Justin Apitz vs. Resul Güccuk
Sai Tbini vs. Erolcan Üste
Sami Tbini vs. Zebiullah Arab
Teilen
zurück zur News Übersicht