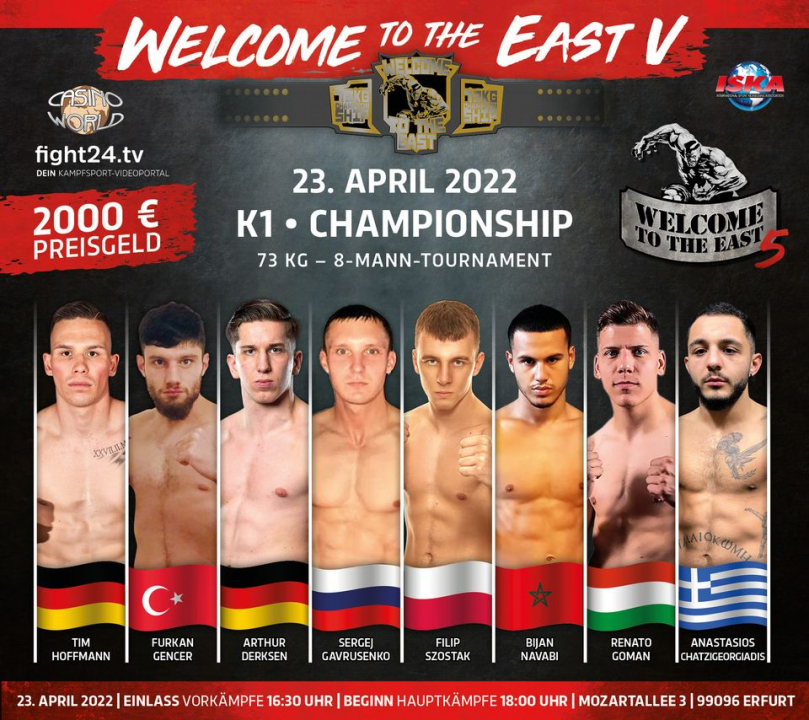 08.03.2022 // Tobias Gerold
// WELCOME TO THE EAST V: TOURNAMENT KOMPLETT
// Zusätzlicher Superfight bestätigt
Drei ganze Jahre mussten Fans und Freunde warten, bis es die nächste Ausgabe der erfolgreichen "Welcome to the East"-Reihe zu bestaunen gibt. Am 23. April hat das Warten nun ein Ende.

Da endlich öffnen sich wieder die Pforten des Steigerwald-Stadions zu Erfurt und die Veranstalter Daniel Zeuner, Marek Ljastschinskij und das Team des La Familia Fight Clubs werden die Location erneut in eine richtige Kampfsport-Arena verwandeln. Beim Blick auf das Programm fällt einem natürlich sofort auf: das etablierte "All or Nothing"-Tournament findet seine Fortsetzung.

"All or Nothing"-Tournament: Alles oder Nichts
Acht Kämpfer, sieben Nationen, ein Ring - und nur ein Sieger. Das Tournament-Format mit den etwas anderen Regeln hat seinen festen Platz gefunden. Wer sich jetzt fragt, was da Besonderes ist, dem sei folgendes erklärt: Klar, die Kämpfe werden nach klassischen K-1 Regeln ausgetragen. Allerdings entfallen in den ersten drei Runde die Wertungen der Punktrichter. Es gewinnt der Kämpfer, der in diesen drei Runden die meiste Anzahl an Niederschlägen landen oder seinen Gegener per KO besiegen konnte. Gab es nach Ablauf der drei Runden keinen KO oder Niederschlag oder beide Kämpfer haben die gleiche Anzahl, dann gibt es eine Runde Verlängerung - und nur in dieser findet das 10 Point Must-System seine Anwendung. Diese besondere Regelung hat schon in der Vergangenheit für gehörige Spannung gesorgt.

Die Auslosung für dieses Feld findet einen Tag davor auf der offiziellen Waage statt (weitere Infos dazu in den kommenden Wochen). Es wird acht Umschläge geben und in jedem befindet sich der Name eines Kämpfers. Jeder Kämpfer zieht einen Umschlag, ohne dabei zu wissen, wen er gerade zieht. Besser und fairer kann man es eigentlich nicht machen. Das Feld ist dabei durchaus als "erlesen" zu bezeichnen. Mit Tim Hoffmann geht ein Lokalmatador an den Start, der mit Furkan Gencer oder Artur Derksen aber starke Konkurrenz hat. Das gilt auch für Sergej Gavrusenko oder Bijan Navabi. Wer mit Filip Szostak, Renato Goman oder Anastasios Chatzigeorgiadis jetzt noch nicht viel anfangen kann, der sollte wissen, dass auch bei den ersten Tournaments Namen dabei waren, die keiner auf der Rechnung hatte - und die dann für die eine oder andere Überraschung sorgten.

K-1
Und weil man die Kampfsportfans für das lange Warten entsprechend auch entschädigen möchte, haut man auch gleich noch den nächsten Knüller raus. Chris Wunn, seines Zeichens der Sieger des letzten Tournaments, trifft in einem K-1-Superfight auf den amtierenden Mix Fight-Champion Jan Kaffa aus den Niederlanden. Seit dem Gewinn des Tournaments 2019 hat Wunn eine beachtliche Leistung an den Tag gelegt und ist quasi von Sieg zu Sieg marschiert. Geschenke braucht und will dieser nicht und mit Jan Kaffa hat er auch mehr als nur eine harte Nuss zu knacken. Der Schützling von Michael Polanen hat schon mehrfach bei seinen Auftritten in Deutschland unter Beweis gestellt, dass man ihn immer auf der Rechnung haben sollte.

Karten für die Veranstaltung gibt es dieses Jahr nur online - man kann diese bei Keyevent erwerben. Doch aufgepasst, die Nachfrage ist groß und deshalb ist Eile geboten. Wer es nicht schaffen sollte: fight24 wird natürlich mit von der Partie sein. Alle Infos zum Live-Stream der Veranstaltung folgen in den kommenden Wochen.

Welcome to the East V
23. April 2022
Arena, Erfurt

Einlass: 16.00 Uhr
Beginn : 16.30 Uhr (Vorprogramm)

"All Or Nothing" Tournament / K-1
- Tim Hoffmann (Deutschland)
- Furkan Gencer (Türkei)
- Artur Derksen (Deutschland)
- Sergej Gavrusenko (Russland)
- Filip Szostak (Polen)
- Bijan Navabi (Marokko)
- Renato Goman (Ungarn)
- Anastasios Chatzigeorgiadis (Griechenland)

K-1
Chris Wunn vs. Jan Kaffa
Marian Lewin vs. Ingiohairo Kani

+ weitere Kämpfe
Teilen
zurück zur News Übersicht