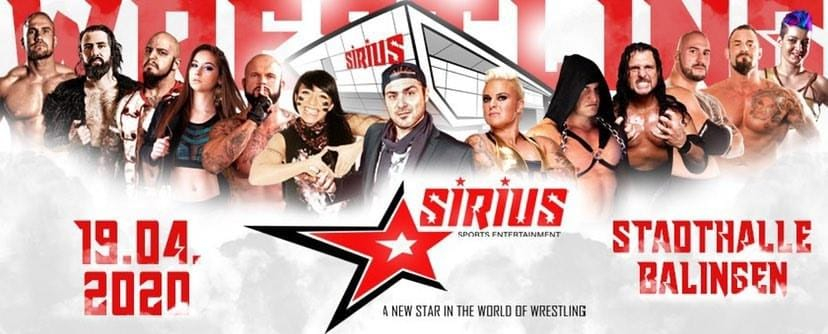 26.02.2020 // Tobias Gerold
// SIRIUS - DER URKNALL: WRESTLING-ACTION IN BALINGEN
// Ehem. NXT-UK Star Jazzy Gabert mit eigener Show
Sie ist Deutschlands Exportschlager in Sachen Wrestling. Jazzy Gabert, ehemaliger WWE-NXT UK Star, gibt am 19. April in Balingen ihr Debüt als Veranstalterin und das, so auch die Überschrift der Veranstaltung, mit einem "Urknall".
Das, was Wrestling-Fans oder solche, die sich für den spektakulären Mix aus Sport und Entertainment schon immer zumindest interessiert haben, sehen wollen, wird es am 19. April in Balingen zu bestaunen geben. Mit ihrer brandneuen Promotion Sirius Sports Entertainment bringt Gabert Athleten aus aller Welt in einem Ring zusammen und sorgt mit einem Mix aus Action und Entertainment für eine grandiose Show, welche Balingen so sicher noch nicht erlebt hat. Das die gebürtige Berlinerin in Bisingen (b. Balingen) mittlerweile ihre Zelte aufgeschlagen hat, kommt dabei nicht von ungefähr. Lange lebte Gabert in England und Japan, wo sie zu einem internationalen Star der Wrestling-Szene avancierte. Nach ihrer Rückkehr nach Deutschland wollte Sie es im MMA wissen und liess sich im bekannten Planet Eater Gym von UFC-Star Peter Sobotta formen. Auftritte in TV-Formaten wie "Supertalent", "Was bin ich" oder "Take me out" liessen den Bekanntheitsgrad in die Höhe schnellen. Gabert kehrte zum Wrestling zurück und war gleich Teilnehmerin am WWE-Mae Young Classic Tournament, welches nur von Frauen besetzt war. Danach wurde die 37-jährige vom Marktführer WWE (World Wrestling Entertainment) unter Vertrag genommen und war bis vor wenigen Wochen noch fester Bestandteil von WWE-NXT UK. Zwischendurch war Gabert mit Rock-Ikone Udo Lindenberg auf Tour. In Balingen wird Jazzy Gabert mit einem neuen Gimmick in den Ring steigen, wollte gegenüber fight24 allerdings noch nicht verraten, um was es sich genau handelt - man darf also gespannt sein. Dafür steht ihr mit Mila Smidt ein Shootingstar aus Frankreich gegenüber. Diese wirkt zwar von der Statur her unterlegen, doch das muss noch lange nichts bedeuten. Denn es gibt eben diesen einen bekannten Satz: "Anything can happen in the World of Wrestling".
Geballte Schwergewichtspower
Natürlich sind in Balingen auch die Schwergewichte vertreten - und da wird es gleich zu drei elektrisierenden Duellen mit absoluten Stars kommen. John "Bad Bones" Klinger ist ein Name, den man im Wrestling-Business nicht mehr erwähnen muss. Kaum ein Titel, den Klinger noch nicht hatte, kaum ein Land, in dem der Bremer noch nicht seine Visitenkarte hinterlassen hatte. Selbst mit UFC- und PrideFC-Star Josh Barnett stand Klinger schon im Ring. In Balingen wird es Tristan Archer aus Frankreich sein, welcher sich dem "Lost Rebel" in den Weg stellt. Als Teilnehmer am WWE-Cruiserweight Classic Tournament ist auch er ein Gegner, der nicht zu unterschätzen ist.
Mit Joe E. Legend kommt ein ehemaliger WWF-Wrestler (Vorgänger der WWE) nach Balingen. Der Kanadier lebt schon seit Jahren in Deutschland und versteht das Publikum in seinen Bann zu ziehen, auch wenn es für den einen oder anderen die erste Wrestling-Veranstaltung ist. Sein Gegner wird "The Austrian Wolverine" Chris Colen sein, welcher aus der Schmiede des "Obermackers" Michael Kovac stammt und dessen Name in der Szene für knallharte Action und beste Unterhaltung im Ring steht.
Mit dem Schweizer Hünen Drake Destroyer hat man sich die Dienste eines aktuell sehr gefragten Schwergewichts gesichert und dieser wird auf den "Irren" aus Oberhausen mit Name Carnage treffen, welcher ein nicht unerfahrenerer BJJ- und Grappling-Spezialist ist. Zwei, die sich im Ring nichts schenken werden und die auch ganz genau wissen, wie das Publikum zu unterhalten ist.
Bevor es also im Mai wieder mit Udo Lindenberg auf Tour geht, möchte Gabert ein erfolgreiches Debüt ihrer Promotion hinlegen. Eine Fortsetzung wäre hier garantiert nicht ausgeschlossen. Tickets zur Veranstaltung gibt es unter www.easyticket.de. Wem der Weg ins beschauliche Balingen allerdings zu weit sein sollte: auch hier kann Abhilfe geschaffen werden, denn über www.fite.tv wird dieser Event zu empfangen sein. Es gibt also keinen Grund, sich das Debüt von Sirius entgehen zu lassen.
Siris - Der Urknall
19. April 2020
Stadthalle, Balingen
Einlass: 16.00 Uhr
Beginn : 17.00 Uhr
Single Match
Joe E. Legend vs. Chris Colen
Single Match
Jazzy Gabert vs. Mila Smidt
Single Match
Tarkan Arslan vs. El Cashio
Single Match
Drake Destroyer vs. Carnage
Tag Team Match
Arrows of Hungary vs. Heavy Metal
Single Match
Slammerella vs. Deliah
Single Match
John "Bad Bones" Klinger vs. Tristan Archer
Teilen
zurück zur News Übersicht