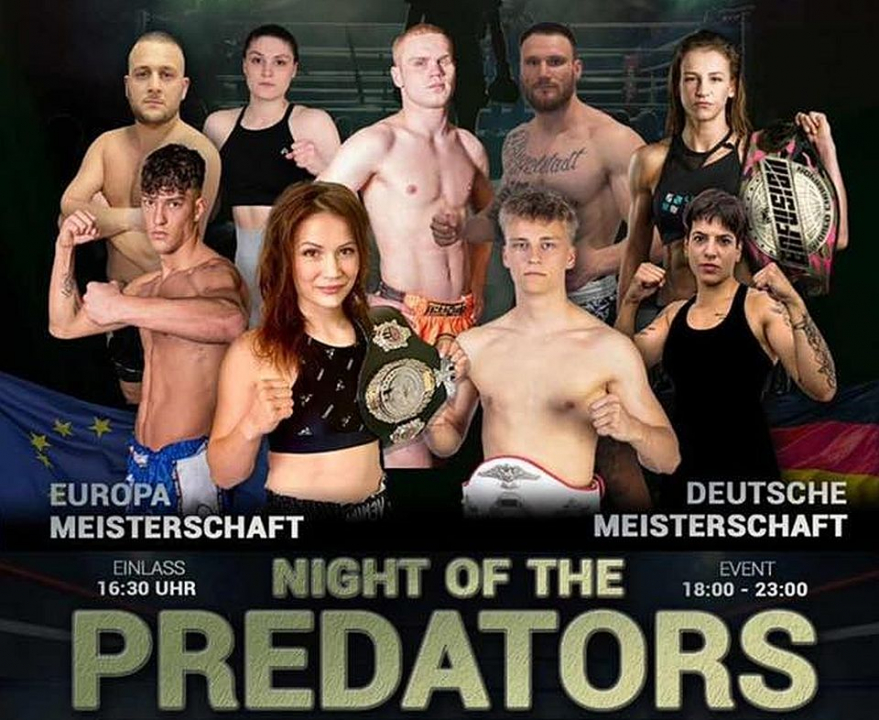 26.04.2022 // Tobias Gerold
// NIGHT OF THE PREDATORS: MELHORN VS. SCHEIDEGGER
// Sarel de Jong gibt Debut im Boxen + Martinez & Schrock in Action
Am kommenden Samstag steht das Debüt der Night of the Predators in Auerbach bevor. 15 Kämpfe im K-1 und Boxen sind im Programm, darunter auch drei vielversprechende Titelkämpfe.

EM: Melhorn fordert Scheidegger
Sie zählt als Lokalmatadorin, auch, wenn sie erst seit zwei Jahren in Pegnitz zu Hause ist. Deborah Melhorn (in einem ihrer Kämpfe auf Enfusion) greift am Samstag nach ihrem ersten internationalen Titel. Nachdem sie bereits den nationalen Gürtel der WKA ihr Eigentum nennen darf, geht es nun um den aktuell vakanten EM-Titel der ISKA - und nichts weniger als der Gewinn dieses Titels ist das erklärte Ziel von Melhorn. Ihr im Weg steht allerdings die Schweizerin Marian Scheidegger - und die wird mit Sicherheit nicht den Weg aus der Heimat in das beschauliche Auerbach auf sich nehmen, um am Ende mit leeren Händen wieder die Heimreise anzutreten. Allerdings wird sie in der Höhle der Löwin antreten müssen und das macht ihr Vorhaben nicht gerade einfacher. Die Ladies bitten also zum Tanz.

DM: Schrock vs. Martinez
Explosive Power und Spannung pur: genau das verspricht der nationale Titelkampf der ISKA, wenn sich Leon Schrock (in seinem Titelkampf auf der Invictus Fight Night 2021) und Marcel Martinez gegenüberstehen werden. Es treffen hier zwei Youngster der nationalen Szene im Ring aufeinander die auch zu Recht als Shootingstars gehandelt werden. Ein Kampf, in dem Schrock seinem Kontrahenten schon eines voraus hat, denn der Saalfelder besitzt bereits den Deutschen Titel der WKU - und der nächste soll folgen. Dieser Umstand wird Martinez allerdings komplett egal sein. Der Schützling von Cai Waldenberger ist ein starker Techniker, welcher auch kleinste Unachtsamkeiten bei seinem Gegner auszunutzen vermag. Da muss Schrock hellwach sein, um nicht überrumpelt zu werden. Dieser hat in seiner Laufbahn aber schon einige Schlachten geschlagen und wird wie Martinez entsprechend motiviert sein.

K-1 Superfight: Ludwig vs. Jäger
Zwar geht es im kommenden Kampf nicht um einen Titel, doch alleine die Ansetzung zwischen Vincent Ludwig (Ingolstadt) und Daniel Jäger (Regensburg) reicht aus, um die Zuschauer auf ihre Kosten kommen zu lassen. Jäger (in seinem Titelkampf bei der Invictus Fight Night III) hat in den vergangenen Jahren eine rasante Entwicklung an den Tag gelegt und ist ein ums andere Mal zum Stolperstein seiner Gegner geworden. Doch auch Ludwig (in seinem Kampf von Ring of Fire 13) muss sich mit seinen Erfolgen hinter Keinem verstecken. Ingolstadt vs. Regensburg in Auerbach – da ist es quasi vorprogrammiert, dass es rasant und spektakulär zur Sache gehen wird.

Ein weiteres Highlight dürfte zweifelsohne das Debüt im Profi-Boxen von Enfusion-Championesse Sarel de Jong (in ihrem Kampf bei The Chosen) aus den Niederlanden sein. Allerdings - und jetzt wird es interessant- darf aus vertraglichen Gründen der Name ihrer Gegnerin im Vorfeld nicht genannt werden. Deshalb reißen die Spekulationen nicht ab, wer denn gegen de Jong in den Ring steigen wird. Wenn so ein Geheimnis daraus gemacht wird, dann dürfte eines klar sein: es wird mit Sicherheit kein No Name werden.

Weitere Kämpfe mit nationaler wie auch internationaler Beteiligung gepaart mit Showacts werden für den entsprechenden Rahmen sorgen. Die begehrten Eintrittskarten für die Veranstaltung gibt es unter www.ticketerlebnis.de. Für alle, die am kommenden Samstag sich das Spektakel nicht live vor Ort ansehen können: kein Problem. Den Fight Pass zu diesem Event könnt ihr HIER erwerben, denn fight24 wird ab 18 Uhr direkt vom Ort des Geschehens berichten.

Night of the Predators
30. April 2022
Helmut Ott Halle, Auerbach

Einlass: 16.30 Uhr
Beginn : 18.00 Uhr

ISKA-Europameisterschaft / K-1
Deborah Melhorn vs. Marian Scheidegger

ISKA-Deutsche Meisterschaft / K-1
Leon Schrock vs. Marcel Martinez

Predators Champion Titel / K-1
Tiziana Olmo vs. Kristin Geissler

Boxen
Sarel de Jong vs. Tba.

K-1
Vincent Ludwigs vs. Daniel Jäger
Gabriela Rozor vs. Zoe Neuschwander
Eric Britto vs. Kai Werther
Dajenka Meijer vs. Lea Anna Züfle
Killian Führer vs. Elias Czogalla
Dominik Wincentowicz vs. Florian Großhauser
Sven Eyselin vs. Aleyander Binder
Jesen Hamd vs. Adil Rahili
Paul Pap vs. Kevin Cvrlje
Faik Erkan vs. Elmi Shabani
Teilen
zurück zur News Übersicht