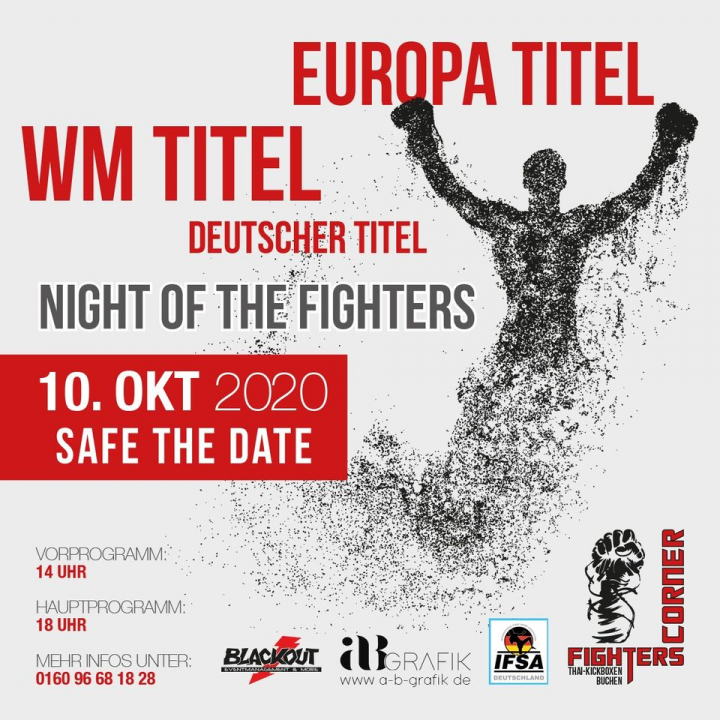 17.06.2020 // Tobias Gerold
// NIGHT OF THE FIGHTERS II: TITELNACHT IN WALLDÜRN
// Braun, Kalashnikov, Klein, Grimm & Co. im Einsatz.
Über Corona wurde und wird aktuell weiter gesprochen - und dennoch ist es erfreulich, dass die Veranstalter gemäß rechtlichert Bestimmungen wieder mit ihren Events planen. So auch Eugen Lorenz, der Head-Coach des Fighters Corner in Buchen und Veranstalter der zweiten "Night of the Fighters".
Braun und Kalashnikov als Headliner
Die beiden Main Fights der Veranstaltung sind Superfights nach K-1 Regeln und überzeugen durch zwei äußerst interessante Paarungen. Der mehrfache Weltmeister und amt. Mix Fight Gala-Grand Prix-Champion Sergej Braun wird auf Simon Hinkel treffen. Vom Stil her sind es zwei sehr unterschiedliche Kämpfer, bei denen Hinkel seine Stärken im Muay Thai besitzt. Dennoch, in der Vergangenheit wurde der Heidelberger immer wieder unterschätzt und hat dabei seine Gegner öfters eines Besseren belehren können. Trotzdem hat Braun die Favoritenrolle in diesem Duell inne - und dieser möchte der Kyokushin Karate-Star auch gerecht werden.
Dass ISKA-Champion Maxim Kalashnikov immer für einen spektakulären Kampf gut ist, das hat dieser in der Vergangenheit ein ums andere Mal unter Beweis stellen können. Einen seiner zahlreichen Titel wird er an diesem Abend nicht verteidigen müssen, trifft aber in einem auf drei Runden angesetzten Superfight auf Andrea Enzo aus Italien. Dieser weiß vor allem mit seinen Bein- und Knietechniken zu überzeugen und wird die Reise aus Venedig garantiert nicht antreten, um den Ring als Verlierer zu verlassen. Keine einfache Geschichte also für Kalashnikov, aber das hat den Pfälzer auch schon in der Vergangenheit nie gestört.
Gashi vs. Mehanikov: Hohe K.O.-Quote
Im einem weiteren Kampf der Veranstaltung geht es um den derzeit vakanten WM-Titel des WFMC, wenn sich in Walldürn Bardhyl Gashi und Dimitry Mehanikov gegenüberstehen werden. Dass dieser Kampf auch tatsächlich über die volle Distanz von fünf Runden gehen wird, das scheint im Vorfeld nahezu ausgeschlossen zu sein, da beide nicht lange fackeln, wenn sich eine Lücke beim Gegner bietet - auch auf die Gefahr hin, dass der Schuss nach hinten losgeht. Spektakulär wird es für die anwesenden Zuschauer garantiert werden.
Klein, Neubert, Grimm & Schneider auf dem Vormarsch
Die Eigengewächse des Fighter Corners in Buchen in Person von Marvin Grimm, Erik Neubert, Denis Schneider und Jason Klein werden an diesem Abend im besonderen Blickpunkt des Interesses stehen. Dabei wird es für Jason Klein um die Junioren-Europameisterschaft des WFMC gehen. Hier verhandelt Promoter Eugen Lorenz aktuell mit mehreren potenziellen Gegnern, denn ein Spaziergang wird es auch für den Loklamatadoren nicht werden.
Für Erik Neubert und Marvin Grimm geht es jeweils um die nationalen Titel des WFMC (Neubert) und IFSA (Grimm). Dabei bekommt es Neubert mit Avtandil Bakuratze aus dem Offenbacher Challenge Club zu tun, während Grimm auf Sergej Mudrak treffen wird. Auch hier sind es schwere Aufgaben, welche die Lokalmatadoren zu bewältigen haben. Die Fans in der Halle werden sicherlich geschlossen hinter "ihren" Helden stehen. Ob das allerdings reichen wird?
Für Corners-Fighter Denis Schneider geht es um den ersten wichtigen Titel seiner Laufbahn. Gegen Ihsan Khudhair steht der nationale Junioren-Titel der IFSA auf dem Spiel. Ganz klar, dass hier ein Youngster wie Schneider bis in die Haarspitzen motiviert sein wird und seinen anderen Team-Kollegen gleich zu Beginn des Events eine Steilvorlage geben möchte, damit auch diese für einen titelreichen Abend sorgen werden. Für Gegner Ihsan Khudhair ist es eine ähnliche Situation: Jung, frisch und hungrig nach dem ersten wichtigen Titel.
Karten für die Veranstaltung gibt es unter www.fighters-corner-buchen.de. Der Event wird bereits um 14.00 Uhr mit dem Vorprogramm beginnen, während der abendliche Teil dann ab 18.00 Uhr seine Fortsetzung finden wird.
Night of the Fighters
10. Oktober 2020
Nibelungenhalle, Walldürn
Vorprogramm: 14.00 Uhr
Hauptprogramm: 18.00 Uhr
WFMC-Weltmeisterschaft / K-1
Dimitri Mehanikov vs. Bardhyl Gashi
WFMC-Junioren Europameisterschaft / K-1
Jason Klein vs. Tba.
WFMC-Deutsche Meisterschaft / K-1
Erik Neubert vs. Avtandil Bakuratze
IFSA-Deutsche Meisterschaft / K-1
Marvin Grimm vs. Sergej Mudrak
IFSA-Deutsche Junioren Meisterschaft
Denis Schneider vs. Ihsan Khudhair
K-1
Sergej Braun vs. Simon Hinkel
Maxim Kalaschnikov vs. Andrea Enzo
Denis Ruht vs. Vladimir Holedenko
Teilen
zurück zur News Übersicht