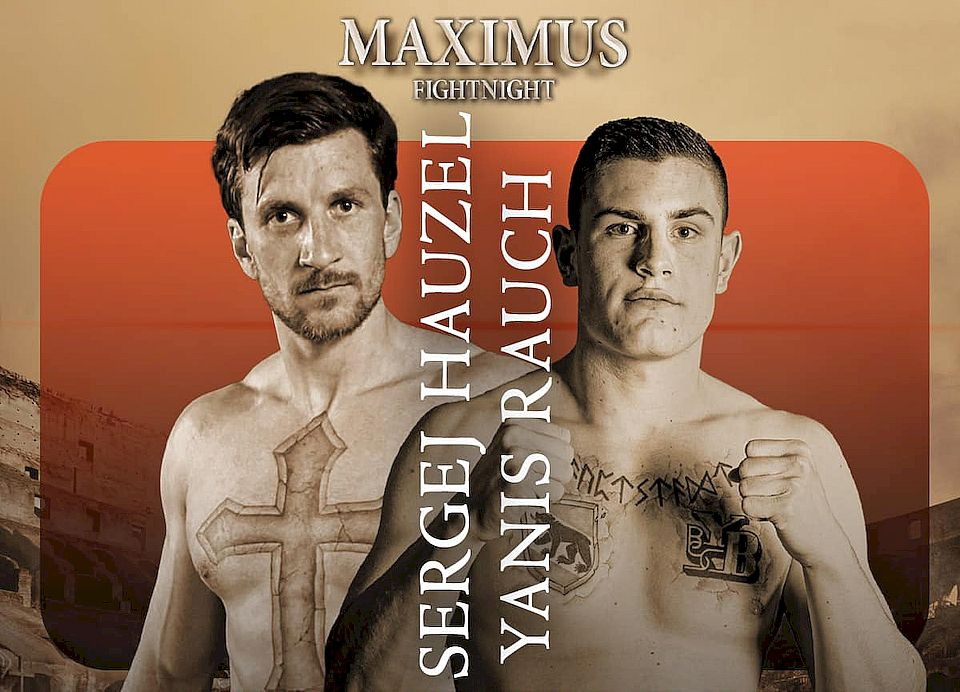 25.04.2022 // Tobias Gerold
// MAXIMUS FIGHT NIGHT: HAUZEL VS. RAUCH
// Glaser & Kurz greifen ebenfalls an. Buller & Schmeling im Schwergewichtskracher
Als Kämpfer ging es für ihn bis hin zum Weltmeister; als Veranstalter hat Massimo de Lorenzo mit seiner Maximus Fight Night am kommenden Samstag seine Feuertaufe zu bestehen - und das mit einem sehr interessanten Programm.

EM: Hauzel trifft auf Rauch
In einem der Hauptkämpfe der Veranstaltung geht es um den aktuell vakanten EM-Titel der ISKA nach K-1 Regeln, wo sich "Fast"-Lokalmatador Sergej Hauzel (Stuttgart) und Yanis Rauch (Bern) gegenüberstehen werden. Hauzel tritt dabei für das Team CSK Stuttgart Allstars an und wird von Serdar Karaca betreut, welcher quasi ein alter Hase in diesem Sport ist und der ganz genau weiss, wie er seinen Schützling auf dieses Duell einzustellen hat. Aber aufgepasst, Rauch ist gerade mal 19 Jahre alt und extrem hungrig, den Titel mit in die Schweiz zu nehmen. Zumal der Schützling von Nikolas Beck als sehr vielseitiger Kämpfer gilt, welcher auch bereits im MMA aktiv war. Wird Rauch in der Höhle des Löwen bestehen können oder bringt Hauzel seine Fans zum Jubeln? Die Antwort gibt es am kommenden Samstag.

Maximus-Titel: Glaser auf dem Vormarsch?
Natürlich darf bei dieser Veranstaltung auch WKU-Titelträgerin Charlotte "Charly" Glaser (hier in ihrem Titelkampf von der Fight Night 2021 in Nürtingen) nicht fehlen. Diese wird in einem Vollkontakt-Kampf, sprich ohne Lowkicks und Kicken nur ab Gürtellinie aufwärts, auf die Italienerin Isabella Ratti (in ihrem Kampf bei Ring of Fire 13) treffen. Diese mag zwar in Deutschland ein noch eher unbeschriebenes Blatt sein, was aber gerade bei den Frauen nicht viel zu bedeuten hat. Dafür konnte sie in ihrem Heimatland bereits einige Erfolge erzielen. So oder so hat Glaser den Sieg und den damit verbundenen Titelgewinn fest im Visier. Es wäre eine noch bessere Werbung für einen möglichen Rückkampf gegen Mandy Berg aus dem Stekos Sportcenter in München – keine Frage.

Maximus Titel: Kurz & Falsone im Technikerduell
Zwei, die ein großes Repertoir an technischen Fähigkeiten mitbringen, sind zweifelsohne Johannes Kurz (Winterbach) und Rosario Falsone (Mannheim). Auch bei diesen beiden steht der veranstaltungseigene Maximus-Championtitel auf dem Programm. Von der Erfahrung her dürfte die Vorteile auf der Seite von Falsone liegen, der immerhin der erste "All or Nothing"-Tournament-Champion bei Welcome to the East war (hier sein Duell im Viertelfinale). Allerdings wäre er dennoch gut beraten, wenn er Kurz (sein Duell von der Fight Night 2019 in Nürtingen) nicht auf die leichte Schulter nehmen würde. Der Schützling von Giuseppe de Mitri hat sich in den vergangenen Monaten ganz heimlich mit starken Leistungen nach oben gearbeitet und möchte mit einem Sieg untermauern, dass mit ihm in Zukunft zu rechnen ist.

Neben den Titelkämpfen kommt es im Schwergewicht zum Duell zwischen Kiril Buller (das Duell von Get in the Ring 19) und Andre Schmeling (sein Kampf von Big Game 2). Dieser Kampf ist definitiv ein Kandidat dafür, dass es hier recht kurzweilig zur Sache gehen könnte, da beide Kämpfer dafür bekannt sind, nicht lange zu fackeln. Aber selbst wenn es über die Distanz gehen sollte, so bringen beide alles mit, um nicht wie ein japsendes Eichhörnchen auszusehen.

Desweiteren gibt Sebastian Harms-Mendez (sein Kampf von der Bodensee Fight Night VI) sein Comeback und wird in einem Kampf nach K-1 Regeln auf Lokalmatador Azdren Krasniqi treffen, während Dimitrios Sapanazidis auf Mathias Sembera aus Österreich trifft – es ist der "kleine" Bruder von Ex-Weltmeister Manuel Sembera.

Weitere Kämpfe mit nationaler wie auch internationaler Beteiligung werden für den entsprechenden Rahmen sorgen. All jenen, die am kommenden Samstag sich diesen Event nicht live vor Ort anschauen können, helfen wir gerne weiter. Den Fight Pass zum Event könnt ihr HIER erwerben, da fight24 die Veranstaltung live übertragen wird.

Maximus Fight Night
30. April 2022
Cantina, Ebersbach a. d. Fils

Einlass: 17.00 Uhr
Beginn: 18.00 Uhr

ISKA-Europameisterschaft / K-1
Sergej Hauzel vs. Yanis Rauch

Maximus Champion Titel / K-1
Johannes Kurz vs. Rosario Falsone

Maximus Champion Titel / Vollkontakt
Charlotte Glaser vs. Isabella Ratti

K-1
Andre Schmeling vs. Kiril Buller
Azdren Krasniqi vs. Sebastian Harms-Mendez
Matthias Sembera vs. Dimitrios Sapanazidis
Tarik El Farra vs. Tobias Moser
Evan Yekda vs. Niko Moosherr
Anna Makridou vs. Stefanie Reuter
Amim Fami vs. Till Simon

Boxen
Daniel Mark vs. Luca Beil
Kendal Majid vs. Norbert Freiseis
Teilen
zurück zur News Übersicht