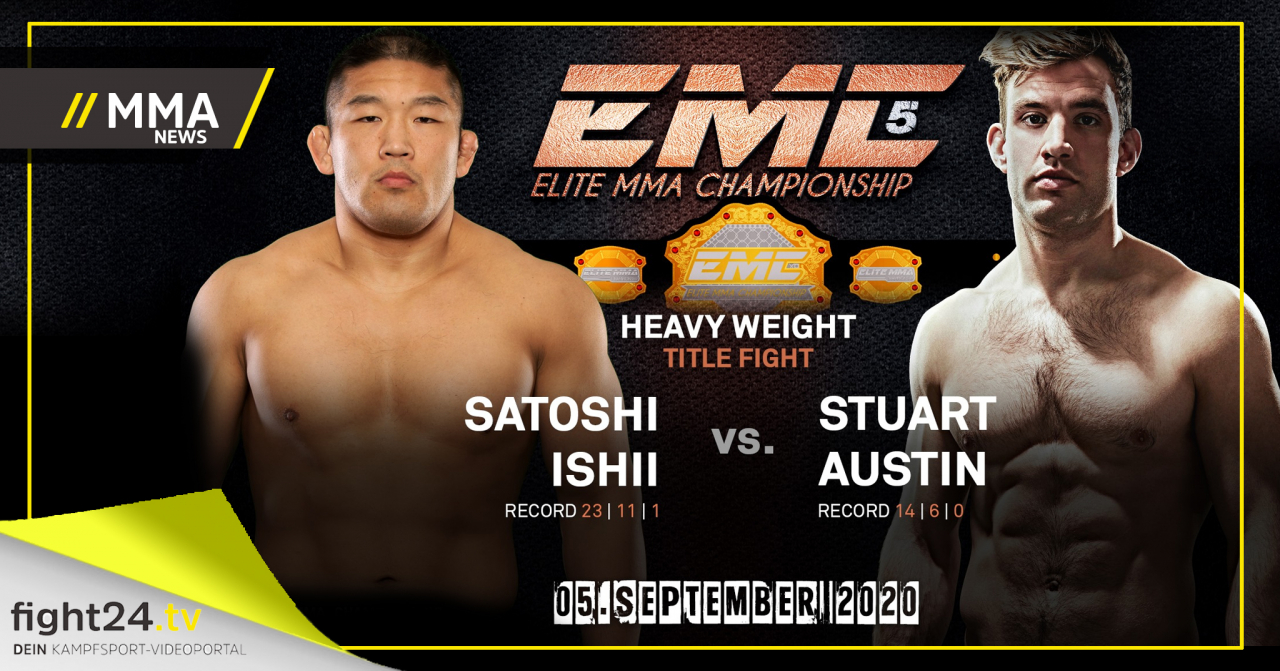 21.08.2020 // Sven Neumann
// EMC VERGIBT ERSTMALS SCHWERGEWICHTSGOLD
// Dyrschka trifft auf Italiener Pugliesi
Mit 180cm Körpergröße gehört Satoshi Ishii (23-0-1) sicherlich nicht zu den körperlich Größten der Schwergewichts-Zunft. Weitgereist und erfolgreich ist der für das Düsseldorfer UFD Gym startende Mann aber allemal. Den größten Erfolg seiner sportlichen Laufbahn konnte Ishii allerdings außerhalb des MMA-Cages feiern, nämlich auf der Judo-Matte. Am 15. Juli 2008 besiegte der Japaner im Finale der Olympischen Spiele von Peking den Georgier Abdullo Tangriyev und wurde nach nur vier Jahren Wettkampfsport Olympia-Sieger. Nur ein Jahr später tauschte der Judoka den traditionellen Jūdōgi gegen MMA-Shorts und feierte in der K-1/DREAM Silvestershow 2009 vor 46.600 Zuschauern in der Saitama Super Arena sein MMA-Debüt.
Zwar verlor Ishii das Duell gegen seinen Landsmann und PRIDE-Veteranen Hidehiko Yoshida (9-8-1) nach Punkten, von dann an ging es allerdings steil nach oben und Ishii musste sich in seinen 14 nächsten Kaempfen nur noch einmal geschlagen geben - und das gegen keinen Geringeren als Fedor "The Last Emperor" Emelianenko (39-6-1). Bis zum heutigen Tag sammelte der Japaner insgesamt 23 Siege ein, von denen er gut die Hälfte via Submission für sich entschied. Auch über ein deutsches Schwergewicht machte sich Ishii bereits her. So besiegte in im Oktober 2017 "Gazelle" Bjoern Schmiedeberg (12-9-1) und läutete via Kimura quasi das Karriereende des ehemaligen SUPERIOR FC- und RESPECT.FC-Champions ein. Ishii hat wohl bislang bereits für so gut wie jede bedeutende Organisation der Welt gekämpft. Die Liste der Promotions klingt wie das Who's who der Kampfsportwelt: von BELLATOR über M-1, KSW, DREAM, K-1, PFL, HEAT bis hin zu RIZIN. Nun fehlt hier tatsächlich nur noch ein Name. Das Bewerbungsschreiben für die UFC koennte der Japaner nun am 5.September bei der fünften Ausgabe der EMC – ELITE MMA CHAMPIONSHIPS abgeben.
Dem Vorhaben steht geballte Power aus dem Vereinigten Königreich gegenüber. Der Engländer Stuart Austin (14-6-0) gilt im Allgemeinen als ein Mann, der das Finish sucht. So ging "He-Man" in seinen bisherigen 20 Profikämpfen erst dreimal über die Distanz. Seinen größten sportlichen Erfolg feierte Austin dabei im Jahr 2015, als er sich den Titel der in England sehr renommierten Eventserie BAMMA sicherte. Nach einem Wechsel ins Light Heavyweight und Angriffen auf die Gürtel der südafrikanischen Liga EFC und der britischen UCMMA wechselte Austin wieder zurück ins Schwergewicht und siegte seitdem zweimal via KO. Beste Voraussetzungen also für ein spannendes Gefecht!
Mit dem Leipziger Konrad Dyrschka (10-1-1) steht ein weiters Juwel auf der Fightcard. Das für den LA FAMILIA FIGHT CLUB in Halle startende Weltergewicht machte sich bislang vor allem im Osten der Republik einen Namen. Zuletzt war Dyrschka im Februar dieses Jahres im Einsatz, als er sich bei EMC 4 mit dem Georgier Levan Chokheli (9-0-1) den Kampf des Abends lieferte, wenngleich dieser kontrovers endete. Ein Rückkampf wurde aber bereits am selben Abend in Düsseldorf angekündigt. Bevor es allerdings dazu kommt, muss erst einmal Walter Pugliesi (7-2-0) aus dem Weg geräumt werden. Der Italiener, der bereits BELLATOR-Luft schnuppern dufte, bringt ebenfalls ordentlich Qualität mit in den Cage, was erneut einen "Fight Of The Night" erhoffen lässt.
Das Event wird live bei den Kollegen von ranFighting zu sehen sein.
Die bisherige Fightcard (Achtet auf unsere Updates):
ELITE MMA CHAMPIONSHIP 5
5.September 2020
Kölner Straße 65, Düsseldorf
EMC Heavyweight Title
Satori Ishii vs Stuart Austin
Heavyweight
Kasim Aras vs Sasa Milinkovic
Erko Jun vs Damian Olszewski
Welterweight
Konrad Dyrschka vs Walter Pugliesi
Lightweight
Tobias Eylitz vs Ibrahim Cholo
Featherweight
Pascal Hintzen vs Said Eidi
Bantamweight
Sara Luzar Smajic vs Dilara Kocak
Lightweight
Husein Kadimagomaev vs Felipe Maia
Teilen
zurück zur News Übersicht