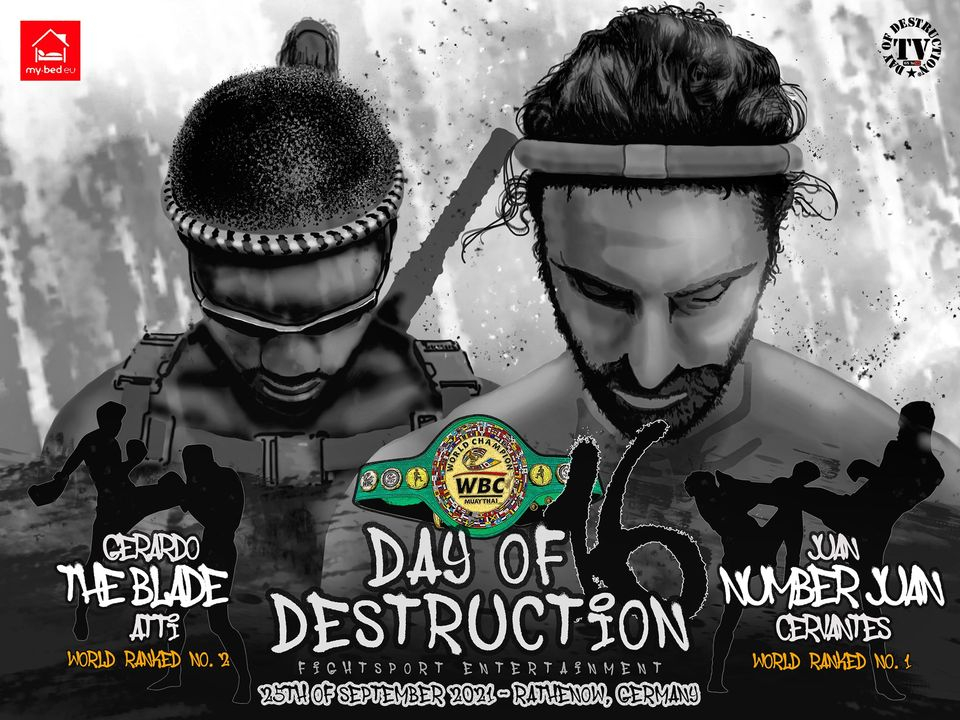 21.09.2021 // Tobias Gerold
// DAY OF DESTRUCTION 16: ATTI VS. CERVANTE UM WBC-TITEL
// Zwei weitere WBC-Titelkämpfe gibt es obendrauf
Der Day of Destruction geht am kommenden Samstag in Rathenow (zw. Stendal und Berlin) in seine mittlerweile 16. Runde. Gleich drei Titelkämpfe des WBC werden dabei auf dem Spiel stehen - Knockout-Power garantiert.

WBC-WM: Atti vor größter Herausforderung
Es lief zuletzt quasi wie am Schnürchen für den Hamburger Coco Atti. Step by step entwickelte sich der Schützling von Ralf Stege immer weiter, sammelte Titel um Titel und konnte dabei u.a. auch Glory-Kämpfer Jakob Styben hinter sich lassen - und das, obwohl Styben eigentlich aus dem Muay Thai kommt. Wer Atti noch nicht auf der Rechnung hatte - allerspätestens seit diesem Sieg ist man gut beraten, "The Blade", so dessen Kampfname, mehr Beachtung zu schenken. Dennoch steht Atti (in seinem Kampf bei Enfusion, Hamburg) am kommenden Wochenende vor seiner wohl sportlich größten Herausforderung. In Rathenow geht es um nichts Geringeres als die Weltmeisterschaft im Muay Thai nach Version des WBC. Sein Gegner wird Juan Cervantes aus England sein - und das wird alles andere als ein Zuckerschlecken werden, denn der Engländer ist die aktuelle Nummer eins im Ranking des WBC. Gerardo Atti steht allerdings nur einen Platz dahinter. Bei einem Sieg könnte der Schützling von Stege Geschichte schreiben, denn bisher hat noch kein Kämpfer aus Deutschland einen WM-Titel des WBC errungen. Zuletzt, wenngleich auch schon Jahre her, versuchte sich Marc Vogel erfolglos an Thai-Superstar Yodsaenklai Fairtex, dem er in der ersten Runde in Wuppertal unterlag. In seiner aktuellen Form ist Atti allerdings vieles zuzutrauen - auch der WM-Titel.

WBC-DM: Achterberg gegen ?
Noch muss Lukas Achterberg (in seinem Titelkampf bei FairFC) aus Aachen ein wenig auf seinen finalen Gegner warten. Eigentlich war der Kampf um die nationalen Krone im Schwergewicht gegen Ring-Veteran Jürgen "Batista" Dolch geplant, welcher nun aber doch nicht für den Event am kommenden Samstag zur Verfügung stehen wird. So kurz vor einer Veranstaltung ist es natürlich wenig optimal, wenn man die komplette Taktik über den Berg werfen muss. Zudem ist das Schwergewicht in Deutschland zurzeit eher dünn besiedelt und weist nicht mehr die Vielzahl von Kämpfern, wie es noch vor ein paar Jahren der Fall war. Egal, wer letztendlich der Gegner von Achterberg sein wird, er muss sich sicher auf einen harten Kampf einstellen.

WBC-DM: Botz trifft auf Eckert
Nicht weniger interessant wird die Paarung um den nationalen WBC-Titel im Super-Mittelgewicht zwischen Daniel Eckert (in seinem Kampf bei HypeFC 11) und dem Frankfurter Kevin Botz (hier in seinem Kampf bei TCC 13). Interessant deshalb, weil beide Kämpfer mit Stil und der Körperstatur komplett unterschiedlich sind. Botz als hochaufgeschossener Kämpfer hat in seiner Laufbahn schon einige Schlachten geschlagen. Er ist, und da muss man kein Prophet sein, ein ausgewiesener Muay Thai-Kämpfer, dem dieser Stil und die Regeln eindeutig besser liegen als die im K-1. Der Hesse fühlt sich hier wohl und weiß auch seine Waffen gezielter einzusetzen. Doch auch Daniel Eckert hat sich diese Titelchance mehr als verdient. Beim Day oft Destruction siegte Eckert im Ausscheidungskampf gegen Peter Jermolow und konnte somit das Ticket für diesen Titelkampf lösen. Kevin Botz hingegen qualifizierte sich bereits im letzten Dezember für diesen Titelkampf. Wir dürfen gespannt sein, welcher Kämpfer an diesem Tag seine Kräfte am besten mobilisieren kann und die taktische Marschrichtung seiner Trainer befolgt.

Insgesamt werden neun Kämpfe an diesem Tag auf dem Programm stehen. Wem der Weg nach Rathenow zu weit sein sollte, fight24 bietet natürlich einen Live-Stream dieser Veranstaltung an. Den Fight-Pass dazu könnt ihr euch HIER sichern.

Day of Destruction 16
25. September 2021
Fight Club / Little Samui, Rathenow

WBC-Weltmeisterschaft / Cruisergewicht
Gerardo Atti vs. Juan Cervantes

WBC-Deutsche Meisterschaft / Schwergewicht
Lukas Achterberg vs. Tba.

WBC-Deutsche Meisterschaft / Super-Mittelgewicht
Kevin Botz vs. Daniel Eckert

Muay Thai
Najib Nazari vs. Jan Neudert
Samuel Baile Sekano vs. Denis Okore
Antonio Hundt vs. Sebastian Gas

K-1
Ali Taheri vs. Valentino Klemic
Bernhard Müller vs. Soan Noack
Amir Mohageri vs. Johannes Hoffmann
Teilen
zurück zur News Übersicht