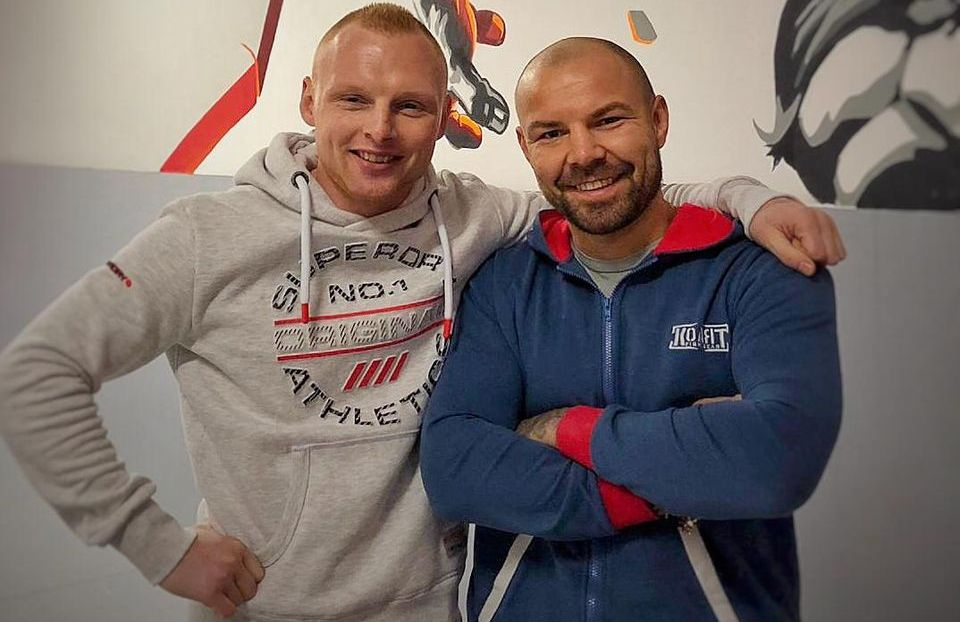 28.12.2019 // Tobias Gerold
// DANIEL ZEUNER: "UNSER SPORT IST SOWAS VON WUNDERBAR"
// Exklusiv-Interview mit den Machern von Welcome to the East.
Das Jahr 2019 ist nahezu Geschichte und wir blicken mit den Machern der Events auf das zurückliegende Jahr und wagen dabei einen Ausblick auf 2020 – heute mit dem Promoter-Duo Daniel Zeuner & Marek Ljastschinskij.
Hallo Ihr Beiden, vielen Dank, dass Ihr Euch kurz Zeit für uns nehmt. Das Kampfsportjahr 2019 liegt hinter uns - wie fällt Euer persönliches Fazit aus?
Hey Tobi, für dich nehmen wir uns doch immer gerne Zeit. Die Frage ist breit gefächert. Auf la familia Erfurt bezogen würde ich sagen, dass wir da angefangen haben, wo wir 2018 aufgehört haben. Ich denke mit unseren zwei Events "Welcome to the East" und "Coming Stars" haben wir wieder mal positiv zum deutschen Kampfsportimage beigetragen. Aber auch im Luta Livre macht unser Grappling Headcoach Florian Gutschke eine hervorragende Arbeit. Als Andyconda Partnerschule hat der la familia fightclub Erfurt in diesem Jahr das erste Subbattle außerhalb von Köln veranstalten dürfen. Nächstes Jahr gibt's die Fortsetzung!
Im Großen und Ganzen ist doch unser Sport sowas von wunderbar. Im Grunde genommen lernen wir nämlich nie aus und versuchen uns immer weiter voran zu treiben…egal ob trainingstechnisch oder in der Veranstaltungsplanung… ist ein Ziel erfüllt, folgt das nächste… ist ein Wettkampf getan, bereitet man sich auf die nächste Aufgabe vor!
Für 2020 habt Ihr ja wieder ein volles Programm; sicherlich mit Welcome To The East V als absolutem Highlight. Erzählt doch mal, was uns am 2. Mai in Erfurt erwartet!
Am 02.05.2019 findet unsere fünfte Auflage der Welcome to the East-Reihe statt. Die KO-Regeln des 8-Mann-Turniers sind immer noch einzigartig in Deutschland und kommen einfach mega beim Publikum an. Damit wird es im nächsten Jahr weiter gehen. Mit dabei ist definitiv der Champ vom letzten Jahr – Chris Wunn vom Frankers Fight Team. Als Lokalmatadoren schicken wir unseren Champ von 2018 - Besmir "the Albanian warrior" Helshani - wieder in das Turnier. Desweiteren geht unsere Michaela "Iron Mike" Michl weiterhin auf Titeljagd. Für die Zuschauer gibt es den Kartenverkauf in 3 Phasen. Da wir letztes Jahr ausverkauft waren, sollten sich alle beeilen.
1.Phase: bis 01.März – 35€
2.Phase: bis 19.April – 40€
3.Phase: bis 02.Mai – 45€
Eins sei gewiss, wir sind schon kräftig am Planen und Vorbereiten. Die Fightcard wird in den nächsten Wochen veröffentlicht und Ihr könnt euch auf neue Showacts und eine gepimpte Bühne freuen.
Was gibt's darüber hinaus? Coming Stars, was sich sehr beachtlich entwickelt hat, dürfte ebenfalls in seine nächste Runde gehen und dann habt Ihr ja auch immer wieder Seminare und andere Events die auf die Beine gestellt werden. Was können wir hier in 2020 von euch erwarten?
Gute Frage Tobi. Ich denke mit 2 Events und dem eigenen Anspruch, seine Kämpfer qualitativ weiterhin auszubilden und kämpferisch voran zu bringen, ist unser Terminplan 2020 schon jetzt knackig voll. Was viele nicht sehen, sind dann noch unsere sozialen Projekte mit Selbstverteidigungsseminaren in Schulen oder Krankenhäusern. Aber auch die ersten Teambuilding-Maßnahmen für Unternehmen sind für nächstes Jahr fix. Also du siehst, uns und dem la familia Erfurt Team wird es niemals langweilig.
Dqs glauben wir gern. Habt Ihr da überhaupt noch Zeit, einen Blick auf andere Events zu werfen? Und was wünscht Ihr euch ganz allgemein für den Kampfsport in 2020?
Das stimmt, da bleibt nur wenig Zeit mal über den Tellerrand hinaus zu schauen. Aber zumindest leben wir ja im Zeitalter der digitalen Medien. Wenn wir nicht selber mit einem Kämpfer vor Ort sind können wir uns ja über Youtube oder fight24.tv immer aktuell halten. Was uns 2019 noch einmal deutlich bewusst geworden ist, ist, dass man sich und seiner Linie immer treu bleiben sollte. Damit meine ich: bleibt Euch, Euren Kämpfern und dem Kampfsportpublikum ehrlich gegenüber und verzichtet auf den schnellen (falschen) Ruhm! #KeinPlatzFürWaldmeister #SagNeinZuStammtischverbänden.
Daniel, ich möchte dir zum Abschluss 5 Stichpunkte nennen und bitte dich uns spontan und mit nur einem Wort zu sagen, was dir dazu einfällt:
- Welcome To The East: klasse Event!
- Glory oder One: zurzeit die Events, bei denen jeder Kämpfer sein will. Bei One gibt's wohl 2,80€ mehr.
- Traumkampf: Fight der Champs - Tayfun Özcan vs. Giorgio Petrosyan vs. Marat Grigorian
- KoArt Fightwear: Von Kämpfer für Kämpfer
- La Familia Fightclub Erfurt: geilster Club!
Wir danken euch dass Ihr euch die Zeit genommen habt und wünschen euch ein erfolgreiches Jahr 2020.
Ich danke euch und wünsche euch weiterhin alles Gute und viel Erfolg.
Teilen
zurück zur News Übersicht