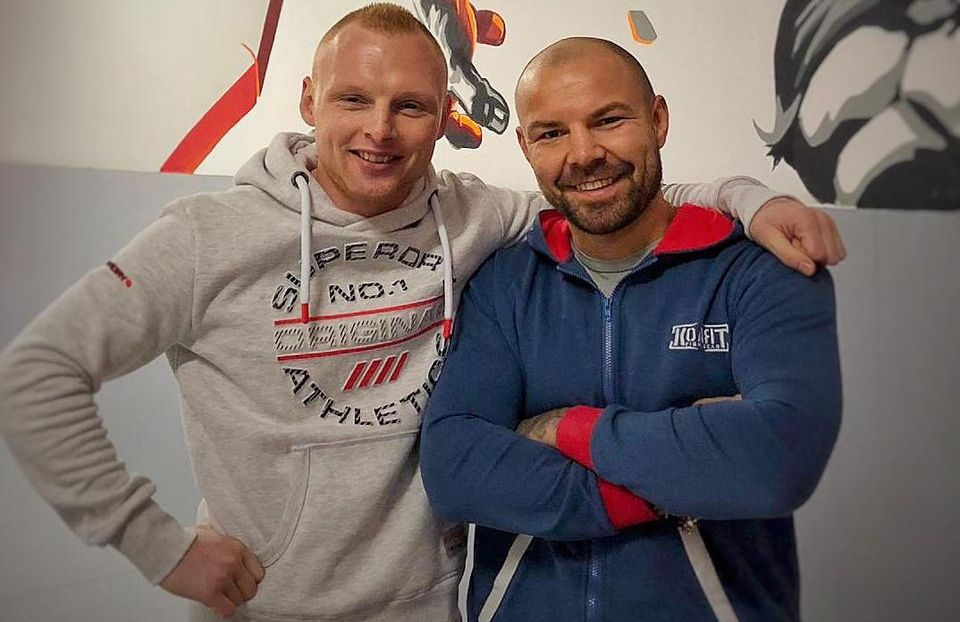 Daniel Zeuner & Marek Ljastschinskij. (Quelle: La Familia Fightclub, Erfurt)
21.04.2020 // Tobias Gerold
// DANIEL ZEUNER: "DER GESELLSCHAFT ALS VORBILD DIENEN."
// Exklusives Interview mit dem Promoter-Duo aus Erfurt
Der Corona-Virus ist aktuell DAS Thema weltweit. Auch die Sportwelt wurde hier besonders hart getroffen, denn einige Events, die bereits einen festen Platz hatten, mussten kurzfristig abgesagt werden, was für einige Veranstalter gerade in finanzieller Hinsicht alles andere als ein Zuckerschlecken ist. Aus diesem Grund haben wir unsere Interview-Serie mit Veranstaltern und Aktiven. Heute mit dem Welcome to the East-Promoter-Duo Daniel Zeuner und Marek Ljastschinskij aus Erfurt.
fight24: Hallo Daniel, hallo Marek. Der Corona-Virus hält aktuell alle in Atem. Auch ihr seid davon betroffen und musstet euren Event, Welcome To The East am 02. Mai, absagen. Wie habt ihr von den ersten Anzeichen bis zum Punkt der Absage die Zeit erlebt?
Hey Tobi, leider sind wir ja nun ALLE von dieser ungünstigen Situation betroffen. Gedanken machten wir uns schon Anfang Februar, als die ersten Maßnahmen in Italien eingeleitet wurden. Zu diesem Zeitpunkt habe ich mich schon mit etlichen Veranstaltern und Unternehmern über die möglichen Negativ-Szenarien unterhalten. Bis dahin haben alle, mich inbegriffen, diese Thematik noch belächelt. Zwei Wochen später sah das traurigerweise schon ganz anders aus.

Wir haben versucht, das Event lange genug am Laufen zu halten. Es wäre sicherlich auch kein Problem gewesen, aber die Angst der Bürger lies den Karten-Verkauf komplett einbrechen. Die bundesweite Studio-Schließung und das Einreiseverbot führten zusätzlich dazu dass uns die Kämpfer absagten. Nichts desto trotz haben wir bis Mitte März noch vollster Überzeugung an den Termin festgehalten. Kurz darauf verschärfte die Bundesregierung die Maßnahmen, sodass uns keine andere Chance blieb, als die "Welcome to the East 5" für den 02.05.20 abzusagen.

Gibt es schon einen Ersatztermin den Ihr uns nennen könnt oder musste der Event komplett gecancelt werden?
Ein genauer Termin steht noch nicht. Aber das Event wird nur verschoben. Die ganze Planung unseres Teams soll doch jetzt nicht umsonst gewesen sein. Die gekauften Karten behalten Ihren Wert und die Zuschauer können sich auf ein Kampfsportevent der Extraklasse gefasst machen. Wir halten definitiv unsere Qualität.

Kannst du das Programm inklusive der Kampfpaarungen weiter aufrechterhalten oder sind hier Änderungen zu erwarten, weil Kämpfer / Kämpferinnen zum alternativen Termin nicht verfügbar sind?
Sicherlich versuchen wir die Fightcard so weit wie möglich aufrecht zu erhalten, aber ob dies Erfolg haben wird, werden wir mit der Bekanntgabe eines neuen Termins sehen. Am Ende geht vielleicht eine Tür zu, aber eine andere öffnet sich. Die Fightcard wird wenn, nur noch besser.

Kampfsportschulen sind geschlossen und in der Not sind einige erfinderisch geworden und bieten Online-Training oder Online-Kurse an. Hast du hier etwas ähnliches geplant?
Klaro. Jetzt ist es Zeit, positiv zu denken. Es hat uns Alle erwischt! Jede Branche spürt die Ausmaße dieser Krise. Der eine mehr, der andere weniger. Aber wir sitzen alle im selben Boot. Auch mein Arbeitsplatz ist bedroht, dennoch sollten wir Kampfsporttrainer weiterhin unseren Mitgliedern und der Gesellschaft als Vorbild dienen. Die Menschen schauen zu uns auf und leben danach, was wir Ihnen vormachen. Damit meine ich nicht nur das Training!

Wir sind in ständiger Kommunikation mit den Mitgliedern. Meist über Motivations- oder Trainingsvideos bei Facebook, Instagram und Youtube. Aber auch per Mail halten wir unsere Mitglieder auf dem Laufenden. Man muss sich mal in die Lage des Mitglieds versetzen. Gefangen zu Hause, eventuell noch mit Kurzarbeit bestraft und dann noch die ständige Panik bzw. Ungewissheit, hervorgerufen durch die Massenmedien. Das ist kein guter Cocktail für ein glückliches Leben.

Deswegen kommunizieren wir mit allen unseren Mitgliedern durchweg positiv. Das sollte sich im besten Fall auf die Laune und den inneren Schweinehund übertragen. Geht raus an die frische Luft und macht unsere Workouts. Schreibt uns oder ladet eure Workouts hoch, wir lassen euch nicht allein! One team - one familia!

Mit heutigem Stand, was glaubst du bis wann sich die Lage halbwegs wieder "normalisiert" hat und man Events wieder planen bzw. auch durchführen wird können?
Ich bin leider kein Orakel, aber ich denke, bis alle Maßnahmen wieder gelockert werden, vergehen noch ein paar Wochen. An das Planen und Durchführen von Events würde ich jetzt erst mal nicht denken. Viele Veranstalter haben ihre Termine schon in den Herbst oder Winter verschoben. Das ist aber angesichts der momentanen Lage reine Spekulation.

Daniel und Marek, wir danken Euch, dass Ihr Euch in diesem nicht einfachen Moment die Zeit genommen hast. Bleibt gesund und bis zum nächsten Event.
Danke immer gern Tobi. Und nicht vergessen - immer positiv denken.
Teilen
zurück zur News Übersicht